Privacy Policy should include Mollom
A
Development
article written by
George Tsoukatos
The Australian Government has introduced new Australian Privacy Principles, and a main topic was adding additional information on the management of personal information which is held by an entity.
Who has Mollom?
All of our client websites that currently have a webform such as a 'Contact Us' form and any other type of online form will currently have Mollom turned on.
What does Mollom do
Mollom is a web service that intelligently combines text analytics, reputation modules and site-specific blacklists allowing image and audio CAPTCHAs to block spammers in an optical and non-intrinsic way. Typically Mollom is configured for the use on webforms in the system.
How it Works
If Mollom is sure that certain content is "spam" (bad), it is automatically blocked. Likewise, if Mollom is certain that content is "ham" (good), it is automatically approved. If Mollom determines that the quality of content is insufficient or potentially constitutes as spam, it sends a message back to the website which, under our configuration, automatically displays a CAPTCHA challenge; if the challenge is completed correctly, the content is approved, and if not, it is rejected.

The analysis occurs by screening queries or messages based on machine learning techniques, language analysis and a reputation system before they are submitted. For this to occur user data is transferred to a third party.
Your Responsibility
Ultimately it is the website owner's responsibility to provide necessary notification to site users and obtain the appropriate consent regarding Mollom's use of user submitted data. By default there is a link to Mollom's privacy policy on forms protected by textual analysis.

See information provided by Mollom below on how client data is stored, used and protected:

"What we store about you – We store all information provided to us by the website. This will include, in particular, the following personal data about you (to the extent effectively provided to us by the website): the content of your message, your name or nickname, IP address, user ID, OpenID, email address, URL of your website, and the date and time you post a message.

How long we store this data – Your data is stored in our databases for at most two months. After this period of two months, we can continue to store your data in anonymized way for a period of two years.

How we use your personal data – We use your personal data to assess the quality of your message, and to find out whether your message constitutes spam, by comparing your data with all other data of all other users in our databases. Afterwards, we also use your personal data to make similar assessments for all other websites that use our service, as the more information we store in our database, the better we can assess whether a message is genuine.

While we sometimes provide statistical information (trends, numbers, etc.) generated from our databases to third parties, please rest assured that you cannot be identified on the basis of this statistical information.

Note that we hate spam as much as you do – in fact, our service is specifically targeted at removing spam. So, we will never provide your email address to third parties, and we will never send any spam ourselves to you. In most cases, we will not even be aware of your e-mail address.

Also note that we can provide access to your personal data in case of illegal or abusive use, or in case we receive orders from a competent legal authority.

How we protect you – We are bound by the strict rules of Belgian and European data protection legislation, which prevents us from making unlawful use of your personal data. Please note that the website's operator may be bound by other rules, depending on his jurisdiction."

Please See: http://mollom.com/how-mollom-works, http://mollom.com/web-service-privacy-policy & http://mollom.com/faq for further information.
Commonly Asked Questions during configuration:
I don't want client data sent to third party providers for analysis, can Mollom be removed?
Yes, this will more than likely increase the percentage of spam content on web form submissions delivered.
Can the Mollom privacy policy information be removed from webforms ?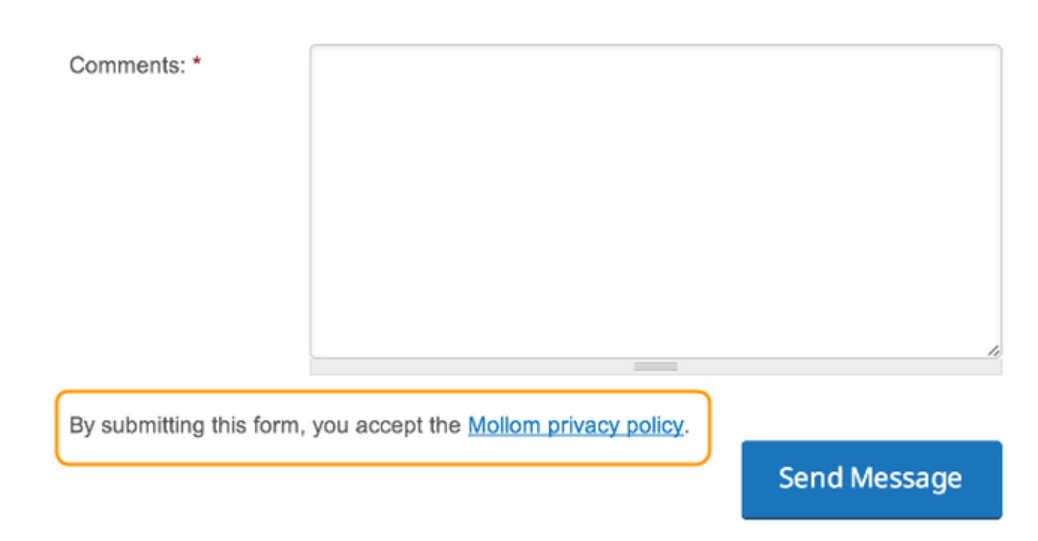 By removing this information "By submitting this form, you accept the Mollom privacy policy." on forms protected by textual analysis, you are required to inform visitors about data privacy through other means (typically through your website privacy policy and terms and conditions pages), as stated in the Mollom terms of service: http://mollom.com/terms-of-service.
Caveats
Mollom is a text analysis service offered outside of our direct control. In case the service is unavailable or unreachable, no text analysis can be performed and no CAPTCHAs can be generated. If this occurs we have configured for a fallback of accepting all incoming webform submissions during the downtime.

The free version of the service used is intended for sites with less than 50 legitimate submissions or correct CAPTCHA submissions per day. The volume limit is not cumulative; it is reached when whichever number is reached first.

Subscribers to paid plans can receive access to Mollom's high-availability backend infrastructure, and higher volumes of legitimate submissions per day.