New Gmail Inbox Tabs & Category Labels
A
Marketing
article written by
Elle Meech
Google has made some interesting changes to Gmail this week - livening it up. If you are a user of Gmail you would have noticed a set of new tabs appearing in the inbox. I noticed my inbox had changed this morning and after having a closer look at the email from the Gmail team, it was confirmed. Google had announced a new inbox that organises all your emails into categories as well as a giving you a notification at the top with the number of new emails you have.

There are five category options including Primary, Promotions, Social, Updates and Forums. How it works it that when you receive an email it gets placed into one of the five appropriate category options in your inbox.
The idea of the new tabs is to move away from the long list of emails you had previously and break them up into the assorted categories as they come into your inbox. This way the user doesn't need to sort through their emails, as they are already grouped for you and you can read all of the same type of message in the one place.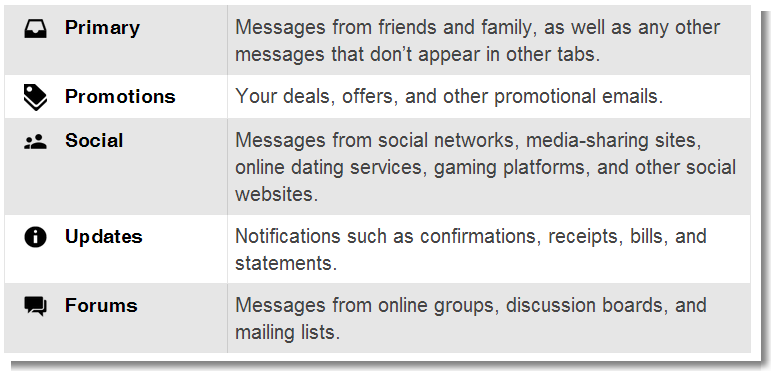 At a glance, you are easily able to see how many new emails you have and which category they are in with an indicator in the tab. The primary tabs is where most of your important emails will appear and you can focus on checking them, while the other tabs you can check out when you have more time.
There is a new function that if an email goes into the wrong tab, you can simply drag it to the right tab and these emails will go there in the future.
You have the choice of selecting as many of the categories as you like as you don't need to have all five. For instance, if you don't use forums you don't have to select that option and any emails relating to that will go into the primary inbox.
Thanks for the new update, Google!